VariSpeed™
Don't let kitchen exhaust throw profits to
the wind
Aerco's VariSpeed™ is a demand control ventilation system that automatically senses what the cooking load is in your kitchen and adjusts the fan speed accordingly. It increases or decreases the fan speed according to your actual ventilation needs.
Without VariSpeed™, most kitchen exhaust systems are unnecessarily exhausting 100% of their maximum capacity all the time. And you are paying for the energy that requires.
Here are a few examples of our customers who have had tremendous success:
Boston Pizza in Sarnia, ON – Savings on average exceed $5,000/store/year
Swiss Chalet in Alliston, ON – Case Study of Swiss Chalet
Earls in Burnaby, BC – VariSpeed is in use at every Earls location in Western Canada
Benefits of VariSpeed™
Saves money
Reduces noise in the kitchen
Reduces wear on the HVAC equipment thereby extending belt life and time between make-up air filter changes
Reduces the amount of grease coating the ductwork and the roof
Achieves maximum efficiency and customer comfort
Qualifies for energy efficiency rebates (Power Smart in B.C.)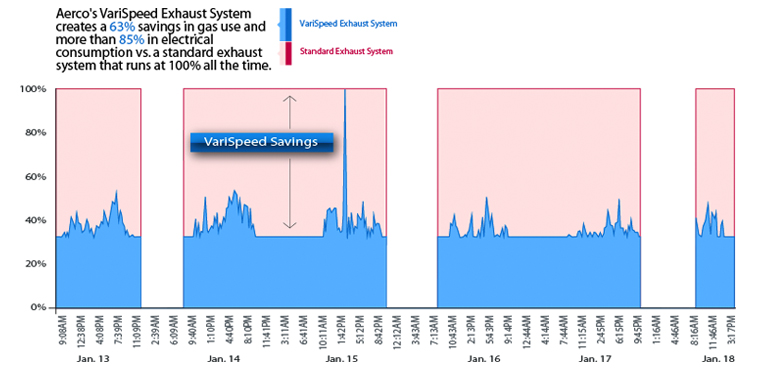 Call today to have Aerco provide an energy savings projection to demonstrate the difference VariSpeed™ can make.
CAD drawings and specs available upon request.
Auto Air Balance™
Clean, filtered air at the right temperature
Auto Air Balance™ is a control system that continuously monitors the pressure inside a building and then automatically corrects the air coming in, using heating and/or cooling equipment. This process ensures that the air entering the building is both filtered and the right temperature for comfort.
Without Auto Air Balance™, many buildings end-up with an imbalance in pressure between the inside and outside. As the saying goes "Nature abhors a vacuum" so air will flow into the building any way it can, typically through a door being opened. While this flow of air relieves the pressure imbalance, it also means that untreated, unfiltered air – either hot or cold – is entering the building. As a result, it makes for an uncomfortable environment for customers and staff.
Call Aerco today to find out the difference that Auto Air Balance™ can make to your building. There are over 800 Auto Air Balance™ systems installed in Canada.
Shockguard™
It's all about comfort
Aerco's Shockguard™ makes your facility a comfortable and consistent temperature, even when it's cold outside. It warms the outside fresh air coming in to your facility before releasing it into general circulation.
Without Shockguard™, you will experience uncomfortable cold pockets in the room; wild cycling of the heating system if one of those cold pockets surrounds the thermostat; and condensation where the cold air pockets hit warmer, moist air. This is called shock cooling.
Shock cooling occurs on cold days when your mechanical system is bringing fresh air into your space. Usually, the fresh air is being heated based on a thermostat in the zone being served. When that thermostat gets to its set point, it turns off the heat system. However, fresh air is still being blown into the room to meet fresh air requirements. If this fresh air is cold (< -5º C) then that cold, dense air will fall straight from the diffusers in the ceiling to the floor.
Aerco's Shockguard™ eliminates shock cooling by automatically controlling the heating system so that if the outside air is cold, it will keep heating the fresh air no matter what the thermostat says.
Shockguard™ is easily retrofit to existing HVAC systems.
Call Aerco today to find out how you can eliminate the discomfort problems that cold weather brings to your building.
CAD drawings and specs available upon request.