Don't let kitchen exhaust throw profits to
the wind
Aerco's VariSpeed™ is a demand control ventilation system that automatically senses what the cooking load is in your kitchen and adjusts the fan speed accordingly. It increases or decreases the fan speed according to your actual ventilation needs.
Without VariSpeed™, most kitchen exhaust systems are unnecessarily exhausting 100% of their maximum capacity all the time. And you are paying for the energy that requires.
Here are a few examples of our customers who have had tremendous success:
Boston Pizza in Sarnia, ON – Savings on average exceed $5,000/store/year
Swiss Chalet in Alliston, ON – Case Study of Swiss Chalet
Earls in Burnaby, BC – VariSpeed is in use at every Earls location in Western Canada
Benefits of VariSpeed™
Saves money
Reduces noise in the kitchen
Reduces wear on the HVAC equipment thereby extending belt life and time between make-up air filter changes
Reduces the amount of grease coating the ductwork and the roof
Achieves maximum efficiency and customer comfort
Qualifies for energy efficiency rebates (Power Smart in B.C.)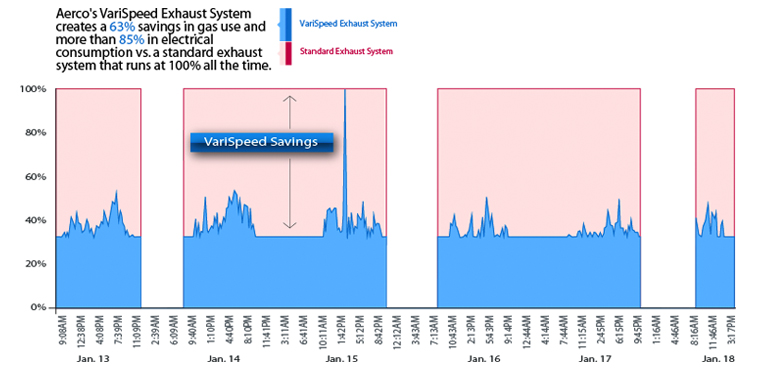 Call today to have Aerco provide an energy savings projection to demonstrate the difference VariSpeed™ can make.
CAD drawings and specs available upon request.